Belén Quesada is a company stablished on 1981 at the south of the
 

Costa Blanca,focused on building new and

 

customized properties to clients wishes.We make New Villas in three different locations where we own a large amount of plots,such as Lo Pepin,next to Ciudad Quesada where we have some plots too,

 

& La Marina, close to Elche.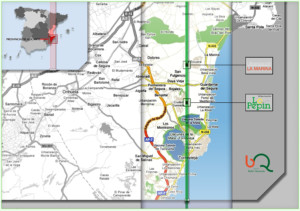 Urbanización Lo Pepín
Lo Pepin is located next to Ciudad Quesada which has more than 15,000 homes built on an area of 10 million m2.
Guardamar & La Mata Beaches :  4 Km
Alicante´s Airport:  38  Km.
Murcia ´s Airport:  43  Km.
Urbanización La Marina
La Marina, located within the municipality of San Fulgencio, just 20 kilometres from Elche and 4 Km from Guardamar.
La Marina beaches :  3   Km
Alicante´s airport:  24  Km.
Murcia ´s airport:  58  Km.