Builders & Plots Owners
Belén Quesada is a company stablished on 1981 at the south of the  Costa Blanca,focused on building new and  customized properties to clients wishes.We make New Villas in three different locations where we own a large amount of plots,such as Lo Pepin,next to Ciudad Quesada where we have some plots too, and  La Marina, close to Elche.
Our reputation as builders is gained from the trust we have earned in developing projects from 1981.Together with our own technical department,we will  personally guide and assist you through the whole project in order to reach an unique property, "YOURS".
Technical
Due to the growth in technology, we are constantly evolving as a company to improve our service to our clients, updating our Quality Report in order to satisfy clients needs and make our villas as comfortable and as energy saving as possible.
Since energy savings are a big issue for clients , our technical department is always ready to assist with this subject.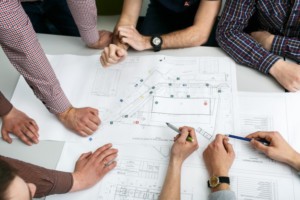 Inspection trips
We truly understand that such an investment, deserves an inspection trip in order to ensure that all your requirements are met ( Surroundings/services/construction quality) – so Belen Quesada offers you the possibility to stay at any of our holiday properties for free during this inspection´s trip.We offer the same service after signing the agreement, so you could supervise your projects development with us.
Stay at any of our properties for your inspection´s trip ; find the links below :